A wide range of intellectual disabilities is represented at Camphill School, including autism spectrum, fetal alcohol syndrome, Downs' syndrome, spina bifida and cerebral palsy. However, because most of the pupils at the School also have a multiplicity of physical disabilities, it is important that, as an adjunct to the education and care they receive, they have access to a variety of therapeutic interventions. These range from physiotherapy, to occupational and speech therapy, as well as massage, music, art, play, equine and eurythmy therapy.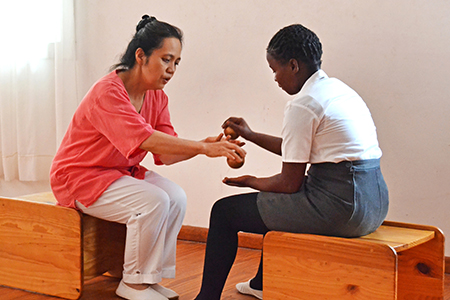 Each child in the School is assessed by an educational psychologist and, in a multi-disciplinary approach involving the teaching and home care staff, as well as all the part-time therapists, the psychologist and a social worker, an individualised care and education programme is prepared for each child. This is monitored on a regular basis and adjustments made, where necessary.
At any given time, every child at Camphill has the opportunity to participate in at least two therapeutic programmes, depending on their needs. As a result of this holistic approach, some quite remarkable emotional, physical and intellectual progress has been evidenced in the learners.